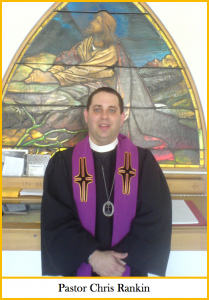 TRINITY U.C.C. VISION STATEMENT:
All will know the love of God through the teaching of Jesus!!
Dear Friends,
Trinity U.C.C. is called by
God to:
Share God's love with our
community
Serve God's children
Bring healing and
wholeness to those in need
Share the Gospel in liturgy,
music and study
Matthew 4:18-20:
As he walked by the Sea of
Galilee, he saw two brothers,
Simon, who is called Peter,
and Andrew his brother,
casting a net into the lake—for
they were fishermen. And he
said to them, 'Follow me, and
I will make you fish for
people.' Immediately they left
their nets and followed him.
A MESSAGE FROM PASTOR RANKIN
Dear Friends,
The Stewardship Committee did some work last year to form a vision statement for Trinity Church. We used this to promote our 2020 stewardship campaign.
The hope is that you will continually reflect on this statement as you decide how to be engaged in the life and ministry of Trinity Church!
As you read this newsletter, you will quickly see the many ways that all will know the love of God through the teachings of Jesus! As a way to make this very specific, the Stewardship Committee developed four brief statements to show how God is using us to share the love of God! This will help our different committees and ministries to plan for the future! Read these four statements
and then look in this newsletter for the ways we are responding to God's call!
We recently had a medical incident that occurred during worship. I am grateful that we have so many medical professionals in this congregation. It was because of their love and care in the midst of the situation that John Barr is still with us! All of you will join me in shouting Praise God!
In this Epiphany season, we are reminded that we are called to be children of the light! The weekly scripture lessons remind us of our calling to be disciples of Jesus Christ! In Matthew 4:19, Jesus says to Peter and Andrew, Follow me, and I will make you fish for people. They immediately dropped their nets and followed Jesus. Are you willing to go that far? Are you willing to drop everything in order to follow Jesus?
In 1852, Cecil Frances Alexander wrote the great hymn Jesus Calls Us. This hymn, based on this scene in Matthew 4, was originally written for children to celebrate St. Andrew's Day. The hymn reminds us that the call to discipleship happens in the midst of chaos. All of us recognize the fact that we often are in the midst of chaos. As people of faith, we are seeing turmoil around us. As we see congregations being deciding to end their ministry, Christ still comes to us and says "follow me"! So the Church will not die! We must remember that God is in control, not us!
As we begin 2020, I encourage all of you to read our vision statement on a continual basis. Where will you fit into this exciting ministry that God is calling us to at this time and in this place? How will you help us to share God's love with our community? How will you help us to serve God's children? How will you help us to bring healing and wholeness to those in need? How will you help
us to share the Gospel in liturgy, music, and study?
There are many opportunities for you to share your gifts in the life of Trinity Church. If you can't find something, then maybe you can help us start a new ministry! Let us be good stewards of the resources given to us by our loving and gracious God!
Blessings, Pastor Rankin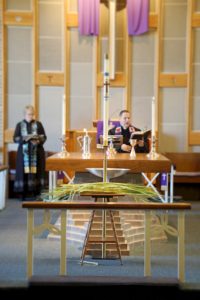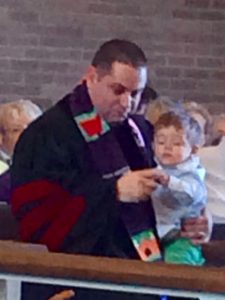 EOV