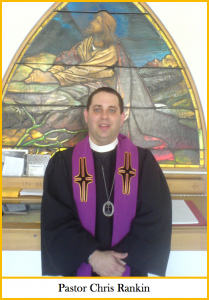 TRINITY U.C.C. VISION STATEMENT:
All will know the love of God through the teaching of Jesus!!
Trinity U.C.C. is called by
God to:
–Share God's love with our
community
–Serve God's children
–Bring healing and
wholeness to those in need
–Share the Gospel in
liturgy, music and study
For you, O Lord, have made
me glad by your work; at
the works of your hands I
sing for joy. How great are
your works, O Lord! Your
thoughts are very deep!
(Psalm 92:4-5 NRSV)
Catch the Vision,
Share the Joy!!
A MESSAGE FROM PASTOR RANKIN
Dear Friends
As I write this epistle to you, we are in the midst of some cold,rainy weather. In fact, some people received several inches of snow. How can this be happening in the middle of April?
Where is spring? It won't be long until we complain about the hot days of summer! As we eagerly wait for the warmer weather so that we can plant our flowers, engage in spring cleaning, and enjoy outside activities, I offer this prayer from Joyce Rupp:
A Springtime Prayer
Ever-renewing and energizing Creator, come, stir in my dormant spiritual limbs.
Wake up my tired prayer. Revive my wear efforts of care. Sing hope into my discouragement.
Wash my dusty, drab attitude with the cleansing rains of your vision.
Go deep to my roots and penetrate my faith with the vibrancy of your grace.
Shake loose the old leftover oak leaves of my tenacious ego-centeredness.
Warm the buds of my relationships so they bloom with healthy love.
Clear out my wintered debris with the wild breeze of your liberating presence.
Nudge me, woo me, entice me, draw me to you.
I give you my trust and my gratitude as you grace my slowly thawing spirit.

Light-filled Being, my Joy and my Hope, let the greening in me begin!

(From Out of the Ordinary: Prayers, Poems, and Reflections for Every Season by Joyce Rupp, 2000)

May this be a time for all of us to delight in God's creation as we experience a

change of season. May it also be a time for us to be involved in the life of Trinity
Church as we move from a pandemic to an endemic. It is good to see many of you on Sunday morning or at other times throughout the week. I miss many of you who haven't returned to church life yet. I want you to know that your presence is missed by all. May we all be drawn closer to God in these days ahead!