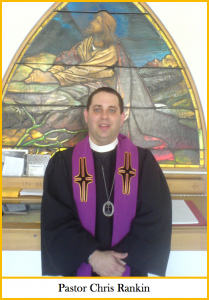 TRINITY U.C.C. VISION STATEMENT:
All will know the love of God through the teaching of Jesus!!
Trinity U.C.C. is called by
God to:
–Share God's love with our
community
–Serve God's children
–Bring healing and
wholeness to those in need
–Share the Gospel in
liturgy, music and study
What then are we to say about
these things? If God is for us, who is
against us? He who did not withhold
his own Son, but gave him up for all
of us, will he not with him also give
us everything else? Who will bring
any charge against God's elect? It is
God who justifies. Who is to
condemn? It is Christ Jesus, who
died, yes, who was raised, who is at
the right hand of God, who indeed
intercedes for us. Who will separate
us from the love of Christ? Will
hardship, or distress, or persecution,
or famine, or nakedness, or peril, or
sword? No, in all these things we
are more than conquerors through
him who loved us. For I am
convinced that neither death, nor
life, nor angels, nor rulers, nor things
present, nor things to come, nor
powers, nor height, nor depth, nor
anything else in all creation, will be
able to separate us from the love of
God in Christ Jesus our Lord.
(Romans 8:31-35, 37-39 NRSV)

A MESSAGE FROM PASTOR RANKIN
Dear Friends,
We begin another month in the midst of a pandemic that has stopped us in our tracks. Our young people are bored because their daily routine is the same! Our elderly folks feel like they are in prison! There are business owners and
congregations forced to close due to the economic fallout from the pandemic. We are living in the midst of tension. The pandemic has become so political and I fear it will only get worse.
I am struggling with the changes forced on me as a pastor. I was not trained to be a TV preacher. I never expected to see the day when I couldn't visit a parishioner in the hospital or a nursing home. I miss the interaction with the members on a Sunday morning. I keep wondering how I will make it through another week of this pandemic.
The only thing that is certain at this time is that we are surrounded by the steadfast love of God. I have always said that the heart of the gospel for me is Romans 8:
nothing can ever separate us from God's love known to us in Jesus Christ!
This provides comfort and healing in the midst of a very difficult time. I hope you find comfort in knowing that you are not alone at this time. I hope you find comfort in knowing that God surrounds you with love, hope, and strength.
We do not know what the future holds for us! When will we return to worship? Will the kids return to school in the fall? What changes will we be forced to accept in the coming months? We don't know when these questions will be answered. However, we turn to our faith to guide us in the midst of the uncertainty:
What is your only comfort in life and in death?
That I belong, both body and soul and in life and in death, not to myself,but to my faithful savior Jesus Christ, who has totally paid for all mysins with his precious blood and completely liberated me from thepower of the devil, and who takes care of me so well that not a hair canfall from my head without the will of my Father in heaven. In fact,everything must work together for my salvation. Besides this, by hisHoly Spirit he also assures me of eternal life and makes mewholeheartedly willing and ready to live for him from now on.
(Heidelberg Catechism Question #1)
Blessings,
Pastor Rankin
Catch the Vision, Share the Joy!!