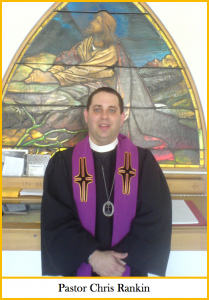 TRINITY U.C.C. VISION STATEMENT:
All will know the love of God through the teaching of Jesus!!
Trinity U.C.C. is called by
God to:
–Share God's love with our
community
–Serve God's children
–Bring healing and
wholeness to those in need
–Share the Gospel in
liturgy, music and study
From Heaven Above to Earth I Come
(Hymn #114, verses 1 & 2)
From heaven above to earth I come, to bear good news to every home;
Glad tidings of great joy I bring, whereof I now will say and sing.
To you, this night, is born a Child of Mary, chosen mother mild;
This little Child of lowly birth, shall be the joy of all your earth
Catch the Vision,
Share the Joy!!

A MESSAGE FROM PASTOR RANKIN
Dear Friends,

This has been a very different Christmas season. We weren't able to gather in the sanctuary for Christmas Eve services or sing Christmas carols to our church members. We weren't able to gather with family and friends during the holidays. In the midst of these difficult days, we receive good news through the birth of Jesus Christ! This is what gives us light in the midst of darkness.
Just as the pandemic hit us, we were in the midst of a special adult class on Worship in the Reformed Tradition. We will continue that class beginning on January 11 (more information is in this newsletter). As we prepare for that class, I thought of a Christmas hymn by Martin Luther.
Luther never expected to be married because he took a vow of celibacy as an Augustinian monk. In the midst of the Reformation, monks began to marry. There were also nuns who wanted to escape their life of celibacy. Luther helped find husbands for many of those nuns. However, he tried for a couple of years to find a husband for Katharina Von Bora, but he had no luck.
After joking with his parents that he might have to marry her, Martin and Katharina were married on June 27, 1525. In the fall, she informed Martin that she was pregnant. When his son, Hans, was a young boy, Luther wrote From Heaven Above to Earth I Come. He said that it was "a Christmas child's song concerning the child Jesus."
From Heaven Above to Earth I Come (Hymn #114, verses 3-6)
Tis Christ, our God, who far on high hath heard your sad and bitter cry;
Himself will your salvation be, Himself from sin will make you free.
Welcome to earth, Thou noble Guest, through whom e'en wicked men are blest!
Though comest to share our misery; what can we render, Lord, to Thee?
Ah, dearest Jesus, Holy Child, Make Thee a bed, soft, undefiled,
Within my heart, that it may be a quiet chamber kept for Thee!
Glory to God in highest heaven, who unto man His Son hath given,
While angels sing with pious mirth a glad New Year to all the earth.
(Historical Information from Then Sings My Soul Book Two by Robert
Morgan
Blessings,
Pastor Rankin
Catch the Vision, Share the Joy!!