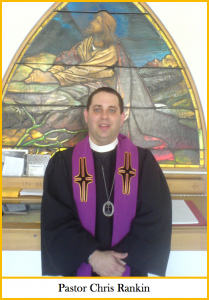 TRINITY U.C.C. VISION STATEMENT:
All will know the love of God through the teaching of Jesus!!
Trinity U.C.C. is called by
God to:
–Share God's love with our
community
–Serve God's children
–Bring healing and
wholeness to those in need
–Share the Gospel in
liturgy, music and study
I am about to do a new thing; now it springs forth, do you not perceive it? I will make a way in the wilderness and rivers in the desert. (Isaiah 43:19 NRSV)
Catch the Vision,
Share the Joy!!

A MESSAGE FROM PASTOR RANKIN
Dear Friends,
The Stewardship Committee and the Board of Deacons recently sent a letter encouraging you to review the 2021 budget summary and complete the I Promise form. The Consistory will soon review the information gathered from the I Promise forms and decide if any changes should be made to the budget. The final budget will then be presented to the congregation at the annual meeting on November 8. We will soon decide how that meeting will be held.
The letter you received lifted up Henri Nouwen's perspective on stewardship. My faith has been shaped by the writing of this great theologian. I recently read Nouwen's short book A Spirituality of Fundraising. I think this should be read by every church leader. Nouwen is very good at opening our eyes to see our faith in new ways.
Nouwen writes, "Fundraising is proclaiming what we believe in such a way that we offer other people an opportunity to participate with us in our vision and mission. Fundraising is precisely the opposite of begging…Fundraising is always a call to conversion. And this call comes to both those who seek funds and those who have funds. Whether we are asking for money or giving money we are drawn together by God, who is about to do a new thing through our collaboration. To be converted means to experience a deep shift in how we see and think and act."
God is doing a new thing right now in our midst. We are definitely in the midst of a conversion experience. Everyone is asking where is God? As I reflect on the last six months, I have seen God at work in the life of this congregation. You have been very supportive of the various feeding ministries in our community. You have been very generous with your financial contributions to Trinity Church. Members of this congregation have used the gifts that God has given to them in order to help us share God's love with our community, serve God's children, bring healing and wholeness to those in need, and share the gospel in liturgy, music, and study.
Henri Nouwen says, "In fundraising as ministry, we are inviting people into a new way of relating to their resources. By giving people a spiritual vision, we want them to experience that they will in fact benefit by making their resources available to us….When those with money and those who need money share a mission, we see a central sign of new life in the Spirit of Christ. We belong together in our work because Jesus has brought us together, and our fruitfulness depends on staying connected with him." Let us continue to respond to the abundant love and grace given to us from God through the offering of our skills and financial resources. Let us continue to be rooted in the love of Christ
Blessings,
Pastor Rankin
Catch the Vision, Share the Joy!!