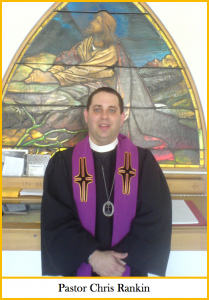 TRINITY U.C.C. VISION STATEMENT:
All will know the love of God through the teaching of Jesus!!
Trinity U.C.C. is called by God to:
Share God's love with our community
Serve God's children
Bring healing and wholeness to those in need
Share the Gospel in liturgy, music and study
A LENTEN PRAYER
Merciful God, we thank you that in love you sent Jesus Christ to share our earthly life with its joy and suffering. Give us grace, that in our need we may come to you in humility and receive your blessing with open hearts, that we may once again serve you with joy and thanksgiving. AMEN.

A MESSAGE FROM PASTOR RANKIN
Dear Friends,
We are living in some uncertain times. We are feeling a variety of emotions: fear, loneliness, grief, or disoriented. Life as we knew it has come to a screeching halt. Students have been sent home from school. Athletic seasons have quickly ended. Restaurants are vacant and now operate as a delivery
service. Worship has moved from the sanctuary to online services. Pastoral care has gone from personal visits to phone calls or online chats!
This disruption to our life made it difficult to assemble this newsletter. Will these activities or services happen? Will things be rescheduled at a future time? When will things turn back to normal? We are all asking these questions, but right now we don't have the answers. I am in constant contact with our leaders, and we promise to keep you informed on a regular basis.
The life of the congregation will definitely be different for a while. We do not know when we will be able to gather for worship or other church activities. This comes at the time when we would gather for Holy Week and Easter services. These services take us from the pain of Jesus' death to the glorious resurrection that provides us hope. This is parallel to our current situation.
As we face these current challenges, it is my prayer that we can turn the fear,
loneliness, grief, and disorientation into hope, joy, and gladness! This is what we do as Easter people! We are called to proclaim the hope we receive through our risenLord!
I conclude with words from Dr. Walter Brueggemann, an ordained U.C.C. pastor and Professor Emeritus of Old Testament at Columbia Theological Seminary. I hope these words will provide you comfort in these uncertain times.
It is the command of Jesus that we not worry, as the world worries, in ways that make us crazy or mean or angry or hateful or quarrelsome. It is a command spoken by Jesus who himself is un-anxious and unflappable.
Indeed, it is difficult to imagine Jesus being anxious. He is unafraid before
the Roman governor at his trial, unflappable before the high priests on his
dread-filled Thursday inquisition, unworried when the storm rages, completely at peace even in the ferocious storm on the Sea of Galilee. He is unafraid, unanxious, not worried. And he invites his disciples to stay close to him, and to share his un-anxious presence. (From A Gospel of Hope, 2018, pg. 33)
Blessings, Pastor Rankin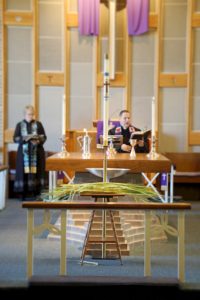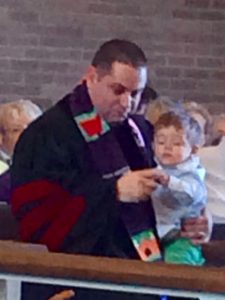 EOV