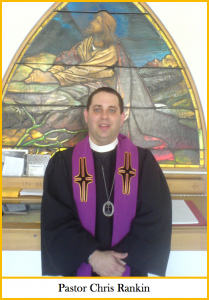 TRINITY U.C.C. VISION STATEMENT:
All will know the love of God through the teaching of Jesus!!
Trinity U.C.C. is called by God to:
Share God's love with our community
Serve God's children
Bring healing and wholeness to those in need
Share the Gospel in liturgy, music and study
A LENTEN PRAYER
Merciful God, we thank you that in love you sent Jesus Christ to share our earthly life with its joy and suffering. Give us grace, that in our need we may come to you in humility and receive your blessing with open hearts, that we may once again serve you with joy and thanksgiving. AMEN.

A MESSAGE FROM PASTOR RANKIN
Dear Friends,
The liturgical calendar now moves to the season of Lent. Our weekly gospel readings will be from John, except for readings from Matthew on the first unday
in Lent and Palm Sunday. The readings from John will focus on personal encounters with Christ.
Our Wednesday services, focusing on the early Christian hymn found in Philippians 2, will lead us into a deeper relationship with Christ. In this wonderful passage, we are called to have the mind of Christ who humbled himself and was obedient even to his death on the cross.
This is why we begin the Lenten season with imposing the sign of the cross on our forehead with ashes and hearing the words, "remember that you are dust and to dust you shall return". In that moment we face our own mortality!
In recent months, we have experienced a lot of death in our congregation and our extended family.I heard people each time lament that it causes them to think about their own death. We all know that this isn't easy. However, the Lenten season is a perfect time to think about life and death.
I have once again included the funeral information sheet. In the past, I have found this information to be helpful for me and the family members of one who has died. This is a way for you to let us know what you would like at your funeral or memorial service. In a way, this is your last gift to us! So I encourage you to take time to write down your plans, and then share it with your family and me. I will keep completed forms in the office.
I want to remind you of another opportunity to engage in conversation around life and death issues. The Stewardship Committee is planning three seminars to discuss estate planning, funeral planning, and the services provided by Hospice. We will be doing this after Easter as a way to proclaim the
good news of Christ's resurrection! You will find more information about these seminars in this newsletter. Please share this with your family, neighbors, and friends. We definitely want to open this to the wider community!
In the meantime, please join us in worship on Sunday mornings and Wednesday evenings. I also hope you will join us for a Lenten study on Sunday mornings with Dr. Randall Zachman and Dr. Rich Christensen about Reformed worship. All of these opportunities help us grow in the faith. As we hear the personal encounters with Christ in John's gospel, we are reminded of God's steadfast love which endures forever. I hope you will join us to sing, pray, and study together!
Blessings, Pastor Rankin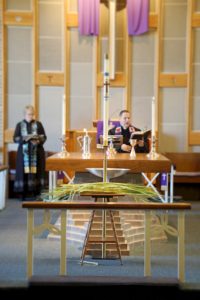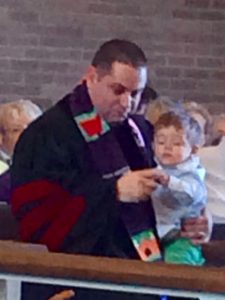 EOV