PASTOR'S MESSAGE
TRINITY U.C.C. VISION STATEMENT:
All will know the love of God through the teaching of Jesus!!
As Jesus passed along the Sea of Galilee, he saw Simon and his brother Andrew casting a net into the lake—for they were fishermen. And Jesus said to them, 'Follow me and I will make you fish for people.' And immediately they left their nets and followed him. As he went a little farther, he saw James son of Zebedee and his brother John, who were in their boat mending the nets. Immediately he called them; and they left their father Zebedee in the boat with the hired men, and followed him.

(Mark 1: 16-20 NRSV)
Catch the Vision, Share the Joy!!
A MESSAGE FROM OUR PASTOR
Dear Friends,
This month marks the 15th anniversary of my ordination to the Christian ministry. I have noticed a lot of changes over the past 15 years. We are seeing more and more congregations experience a decline in worship attendance and financial resources. This has forced congregations to share pastors or to close their doors. It is sad to think that this is the chapter these congregations are living in at this time.
As I read these stories, I become more and more concerned about the future. I want to look forward with hope and joy, but I am also looking at the realistic picture of the church today. However, I am reminded of Trinity's story and rediscover the hope that we find in Jesus Christ. This congregation shared pastors with the Reformed congregations in Ephrata, Manheim, Eden, and Mountville for many years. There were some years where there was a concern on whether the congregation could pay their portion of the pastor's salary. In the 1940s, Trinity was finally able to call their first full-time pastor.
In the years that followed, this congregation was blessed with great pastoral leadership. We are especially grateful for the visionary leadership of Rev. Isenberg, Rev. Geisler, and Rev. Royer. However, they did not do this alone. Trinity has always had strong lay leaders. It is because of this strong pastoral and lay leadership in the past that Trinity continues to be a strong and vital congregation.
We are called to build on their legacy. They have entrusted the care of this congregation to us. What an awesome responsibility! However, I remind you that we do not do this alone. The living Christ promises to go with us as we teach, preach, baptize, and proclaim the gospel!
The words from Mark 1 were read at my ordination service on October 24, 2004. These words are a good reminder that Jesus continues to call men and women, youth and children to follow him. Just look around our congregation. New people have joined us in recent years, and now they are sharing their gifts and skills to help us fulfill Christ's call at this time and in this place. We are a stronger congregation because of their presence among us.
So the good news is that Christ continues to call us to new and exciting ministries. In order to say yes to Christ's call, we must take some risks and allow the Holy Spirit to guide us in the future. I can guarantee that things will look different, but the one thing that won't change is that Christ is with us along the way. This is the good news and the hope that I cling to as I move forward in my ministry. Praise be to God!
Blessings, Pastor Chris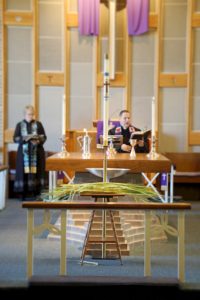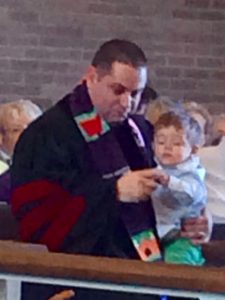 EOV