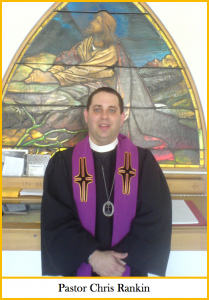 TRINITY U.C.C. VISION STATEMENT:
All will know the love of God through the teaching of Jesus!!
Trinity U.C.C. is called by
God to:
–Share God's love with our
community
–Serve God's children
–Bring healing and
wholeness to those in need
–Share the Gospel in
liturgy, music and study
As you therefore have
received Christ Jesus the
Lord, continue to live your
lives in him, rooted and
built up in him and
established in the faith, just
as you were taught,
abounding in thanksgiving.
(Colossians 2: 6-7 NRSV)
Catch the Vision,
Share the Joy!!
A MESSAGE FROM PASTOR RANKIN
Dear Friends,
This summer was filled with a lot of fun activities at Trinity Church. You will see some pictures in this newsletter from the Barnstormers game, VBS, the
Friendship Fest, and the church picnic. You will see how much we enjoyed being with one another again!
I also started Lunch with the Pastor as a way to resurrect community in our congregation. This has been a way to see familiar faces, but it has also been
a way to meet new people!
We continue to see some familiar faces at our Sunday morning worship services, while others are watching the service via Facebook or the church website.
We now turn to fall and continue to seek ways to resurrect community at Trinity Church. The pandemic is still preventing us from doing some of the normal activities and ministries. I encourage you to read this Parish Post to see the thingsthat are being planned in the coming weeks!
At this time of the year we are looking forward to Rally Day and the start of a new year for Christian Education. You will see an announcement about our Rally Dayplay that we hope to view on September 12 at 9:00 a.m. in Isenberg Hall. There will also be a link for you to view the play at your convenience on September (it is only available for that day).
Pinochle games will also resume this month. I recently learned that Dottie Schadtgot to know Sally Bright through playing pinochle once a month in Isenberg Hall. The joy of these fellowship activities is that we do get to know our brothers and sisters in Christ on a different level!
We also look forward to receiving some new members in September and
celebrating the Rite of Confirmation for five young people of Trinity Church on
October 31 (Reformation Sunday)! Hopefully the prayer shawl ministry, T.W.O.
(women's group), and M.O.T. (men's group) will be able to gather soon.
In the midst of the challenges forced by COVID, we can see some exciting things that God is doing in the midst of Trinity Church. We are grateful for all the ways you are connected to the life of our congregation at this difficult time! Let us move forward with the hope and joy we receive in Jesus Christ!