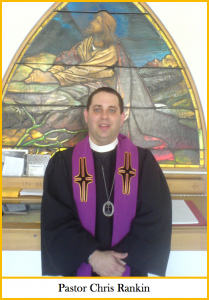 TRINITY U.C.C. VISION STATEMENT:
All will know the love of God through the teaching of Jesus!!
Trinity U.C.C. is called by
God to:
–Share God's love with our
community
–Serve God's children
–Bring healing and
wholeness to those in need
–Share the Gospel in
liturgy, music and study
Come, let us bow down in worship,
let us kneel before the Lord our Maker.
Psalm 95:6 (NSRV)
Catch the Vision,
Share the Joy!!
A MESSAGE FROM CAROL KRATZ
ADMINISTRATIVE ASSISTANT
Dear Loved Friends,
I was recently reading an article and it got me thinking and writing. I shared it with Pastor Chris and asked if I could share it with you. Here is what I was pondering.
Ways We Worship
Bet you never thought a person pulling weeds out on a churches lawn could be worship. So ask yourself "Why are they doing that?" They are showing love for fellow members of the church and love of God in wanting the place where they gather together to be a place where others want to come. Worship can be when we come together in a sanctuary to sing praises to the Lord and listen to his sacred word. However, there is much more to worship than that.
Worship is acts of love. We are to love our neighbors as ourselves. Often we don't think of that as we go through everyday life. What does that really mean?
When we serve in the children's ministry, we honor Jesus' words, "Bring the children to me."
When we volunteer at the Food Hub, work at Community Meals, we are showing love to the marginalized. We are showing God's love to those who many times can't even imagine what God's love is.
We worship God when we support the church, not just through money (although that is important), but also through acts of service such as taking offering, planting flowers and so much more. The list is endless.
We worship God when we sign up for CROP Walk. We worship God when we help a neighbor or fellow church member who is going through a hard time.
In this world it seems like we are constantly going. However, sometimes we need to stop and look over as we consider how we should be spending our time. Is worship a priority or do we push it to a back burner? Is it a part of our everyday lives?
Blessings,
Carol Kratz
"'
You shall love the Lord your God with all your heart, and with all your soul, and with all your mind.'
Matthew 22:37