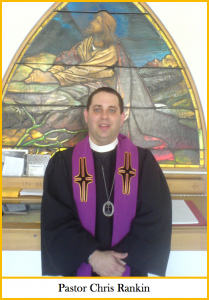 TRINITY U.C.C. VISION STATEMENT:
All will know the love of God through the teaching of Jesus!!
Trinity U.C.C. is called by
God to:
–Share God's love with our
community
–Serve God's children
–Bring healing and
wholeness to those in need
–Share the Gospel in
liturgy, music and study
Almighty God, through your only Son you overcame death and opened for us the gate of everlasting life. Give us your continual help; put good desires into our minds and bring them to full effect; through Jesus Christ our Lord, who lives and reigns with you and the Holy Spirit, one God, now and forever. Amen.
Catch the Vision,
Share the Joy!!

A MESSAGE FROM PASTOR RANKIN
Dear Friends,
Easter morning will be different again this year. We will not be able to sing the beloved Easter hymns or gather for our annual Easter morning breakfast, but then we weren't able to do that last Easter. At least this year we will have opportunities to worship together. Holy Communion will be celebrated at all three services at the church building. There will also be an online Easter service. Look for more information about the services in this newsletter.
Although the celebrations will once again be different this year, the message of Easter remains the same. Life triumphs over death. This message provides us some comfort as we continue to face the challenges of this pandemic. This message gives us hope for something better to come!
In a recent session of our Lenten study, we read these words from Rev. Magrey DeVega:
Death does not have the final word; hope really is the shape of tomorrow. All our pain and shame and regret will in the end be redeemed because nothing is wasted forever. If Christ is raised, we can be sure that fear will pass away and joy will prevail. All will at last become beauty.
(Embracing the Uncertain: A Lenten Study for Uncertain Times, pg. 64)
Let us cling to the promise of Easter as we continue to confront the challenges before us. Let us also be bold in proclaiming the hope and joy offered to us by the resurrected Christ. Although all of us are not together on a weekly basis for worship, we are sent out to be witnesses of the resurrection.
This year we will once again be witnesses of the resurrection by placing flowers on the cross at the front of the building. I heard from neighbors and others who passed by the church throughout 2020 that this beautiful cross was a sign of hope for them at a difficult time. This year, we will also be witnesses by gathering outside for an Easter sunrise service at 6:30 a.m. We will boldly proclaim to the neighborhood that Christ has died, that Christ is risen, and Christ will come again! Alleluia!

Blessings,
Pastor Rankin
39We are witnesses to all that he did both in Judea and in Jerusalem. They put him to death by hanging him on a tree; 40but God raised him on the third day and allowed him to appear, 41not to all the people but to us who were chosen by God as witnesses, and who ate and drank with him after he rose from the dead. 42He commanded us to preach to the people and to testify that he is the one ordained by God as judge of the living and the dead. 43All the prophets testify about him that everyone who believes in him receives forgiveness of sins through his name.'
(Acts 10:39-43 NRSV)
Catch the Vision, Share the Joy!!