A MESSAGE FROM THE PASTOR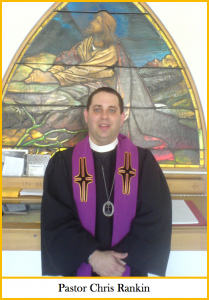 TRINITY U.C.C. VISION STATEMENT:
All will know the love of God through the teaching of Jesus!!
Trinity U.C.C. is called by
God to:
–Share God's love with our
community
–Serve God's children
–Bring healing and
wholeness to those in need
–Share the Gospel in
liturgy, music and study
I will open my mouth in a parable; I will utter dark sayings from of old, things that we have heard and known, that our ancestors have told us. (Psalm 78:2-3)
Catch the Vision,
Share the Joy!!
.
Dear Friends,
The summer months were filled with a lot of activities at Trinity Church. The fun included mini-golf, the Barnstormers game, VBS, the Friendship Fest, and the church picnic. Now we turn to some busy activities this fall.
The following pages will talk about Rally Day, the East Petersburg parade, concerts, the CROP Walk, the peanut fellowship, pinochle, men's breakfast, prayer shawl, and the various plans for our 175th anniversary. There are so many ways for you to be involved in the life of Trinity Church.
As we celebrate our past, I want to share with you some words from the saints of Trinity Church who have gone before us:
EVERYDAY LIVING THOUGHT (submitted by Ruth Rohrer in the 1982 Trinity
Devotional compiled by the Women's Bible Class)
I am only one
But, I am one.
I cannot do everything
But, I can do something.
And, what I can do, I ought to do.
And by the grace of God
I Will Do It.
THE FISH THAT WENT TO CHURCH (written by May Shaub to commemorate a children's sermon by Rev. Elizabeth Hambrick-Stowe on April 10, 1994)
I'll tell you a story that's hard to believe.
We didn't know what the minister had up her sleeve.
We can't take this literally, you know,
For her sleeve would have had to grow and grow!
For the fish was LARGE, it wasn't small.
We were surprised to see a fish in church at all!
Not only the children were amazed,
For all the people just sat and gazed.
We've all heard the story again and again,
How the disciples were told to be "fishers of men".
Holding up the fish before the congregation,
Was a means of giving us much inspiration.
To the children illustration was made in a delightful way,
And for all of us there, it made our day!