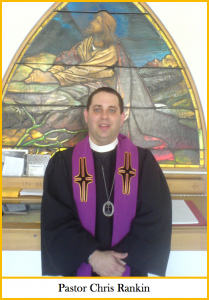 TRINITY U.C.C. VISION STATEMENT:
All will know the love of God through the teaching of Jesus!!
Trinity U.C.C. is called by
God to:
–Share God's love with our
community
–Serve God's children
–Bring healing and
wholeness to those in need
–Share the Gospel in
liturgy, music and study
AN ADVENT PRAYER
God of Advent, we live in the promise that you will fulfill your will for earth. Yet nations are in chaos and our lives in turmoil. Gather us together to begin our watch for the coming of your Promised One. Lead us through the chaos by a watchful heading spirit. In the name of the One who is to come, we pray. Amen.
Catch the Vision,
Share the Joy!!
A MESSAGE FROM PASTOR RANKIN
Dear Friends,
It is hard to believe that we are at the beginning of another church year! The Advent season is a time of waiting and preparation for the birth of the Christ child. I am amazed at how many people have already rushed to Christmas, as if we don't need some preparation time.
During this Advent season, I hope you will join us for worship and Christian Education classes as we walk together on this journey to Bethlehem. We will gather around the Advent wreath and light a candle each week to bring us closer to the light of Christ at our Christmas Eve services (look for more information in this newsletter about those services).
Furthermore, I hope the Advent devotionals will be helpful on this journey to Bethlehem. As we begin this Advent season, I want to add to your devotional life by offering these words from the late Ann Weems, a poet, speaker, and devout Presbyterian:
TOWARD THE LIGHT
Too often our answer to the darkness is not running toward Bethlehem but running away.
We ought to know by now that we can't see where we're going in the dark.
Running away is rampant….separation is stylish: separation from mates, from friends, from self.
Run and tranquilize, don't talk about it, avoid.
Run away and join the army of those who have already run away.
When are we going to learn that Christmas Peace comes only when we turn and face the darkness?
Only then will we be able to see
the Light of the World
.
(From Kneeling in Bethlehem by Ann Weems, 1987)
Blessings,
Pastor Rankin