A MESSAGE FROM THE PASTOR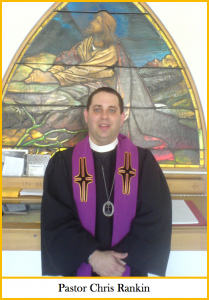 TRINITY U.C.C. VISION STATEMENT:
All will know the love of God through the teaching of Jesus!!
Trinity U.C.C. is called by
God to:
–Share God's love with our
community
–Serve God's children
–Bring healing and
wholeness to those in need
–Share the Gospel in
liturgy, music and study
Catch the Vision,
Share the Joy!!
.
Dear Friends,
This month will be the 55th anniversary of the Trinity building dedication. The week of dedication services began on Monday, April 1, 1968 and concluded with the Service of Dedication on Palm Sunday, April 7, 1968. The Rev. James Moyer, the President of Penn Central Conference (one of Carrie Call's predecessors) was the preacher.
I want to share with you a portion of Pastor Geisler's message in the dedication
booklet: The building of this New Church for a New Age has been one of the most challenging, exciting, and rewarding undertakings of my ministry. We wanted our building to speak the historic Christian Faith to the Now generation, and this was no easy task in a day of secularization. It was exciting to study the theology of the Church fathers, to understand the Liturgy in light of that theology, and to watch our faith expressed architecturally in a building made and designed by man….We gather now for a series of Dedication Services to dedicate this building of brick, mortar, wood, and steel to the honor and glory of our God.

Pastor Geisler was already talking about the secularization of our culture in 1968. As I have noted in my recent sermons, we have increasingly become a secular society. As Pastor Geisler noted in 1968, it is hard to express our historic faith and tradition to people who don't understand it! What are we to do?
As Easter people, we are filled with hope because of the promise we receive in the Risen Christ! We must share this promise even to those who seem to think there is no need for faith! When we gather in this church building, we see symbols of our faith that we can use to share our faith with the wider community. I want to point out two of the Easter symbols:
1. The butterfly is a symbol of the resurrection and eternal life. As the
butterfly leaves the pupa and soars upward with a new body, so through
Christ the Christian receives new life with the resurrected body.
2. The Resurrected Christ arose from the dead with new physical properties and is now the Lord of all creation.
Look for these symbols in our sanctuary and use them to show others the
promises of God. May they also deepen your personal faith. Watch for more
information in the coming months about the other symbols in our church
building!