PASTOR'S MESSAGE
JULY-AUGUST 2019
CONTINUING OUR
JOURNEY OF FAITH!!
Sabbath is a gift from God, because rest is as important as work for the health of all creation. Rooted in Biblical commands for Sabbath, a sabbatical is a significant time of rest, renewal and refreshment for pastors. Sabbatical is a time to nourish the relationship with God, recommit to the call, and provide renewed vision and focus for ministry. Sabbatical leave may include study or a project, but its first goal is reconnecting with one's sense of vocation through rest, reflection and prayer. (Adapted from the U.C.C Resource A Sure Foundation: Resources for the Relationship Between Pastors & Congregations)
A MESSAGE FROM OUR PASTOR
Dear Fellow Disciples,
As you know by now, I will be taking a short sabbatical from July 22-September 7. I realize this is something new for Trinity Church. You may be wondering why a pastor would take a sabbatical. This is why I am sharing with you the words from a recent resource provided by the U.C.C. I hope this will help you to understand why it is important for pastors to have a sabbatical leave.
When you called me in 2012, part of the call agreement was eligibility for a sabbatical after 5 years of ministry with you. The normal amount of time for a pastoral sabbatical is three months. I decided to take my sabbatical in my seventh year as your pastor. Furthermore, due to the schedule at the church this summer I chose to take a short sabbatical (seven weeks/six Sundays).
I will not be in the office during the week, leading worship, or attending meetings. So what will I be doing during this sabbatical?
1. Doing some research on the psalms in order to write psalter responses for worship and possible studies.
2. Collaborate with Anne to publish her CaringBridge entries.
3. Start a project on
Trinity's history as we plan to celebrate our 175h anniversary in 2023.
Who will be covering the pastoral duties while I am gone? Pastoral care will be provided by the Rev. Bob Bistline (weeks of July 22, August 4 & 18, and September 1; and Student Pastor Jack Hocker (weeks of July 28, August 11 & 25).
I have told both Pastor Bistline and Pastor Hocker that if I am in the area at the time of a death in the congregation, I will be available to assist with a funeral or memorial service.
Preaching will be handled by the following people:
Rev. Jack Esbenshade—July 28 & August 25
Rev. Dr. Carrie Call—August 4 & 11
Dr. Randall Zachman—August 18
Rev. Dr. Rich Christensen—September 1
This arrangement will use the gifts of our own members and be a very cost effective way to provide the necessary pastoral coverage.
May this sabbatical leave by a time of renewal and refreshment for all of us. The question for us during these 7 weeks is "what's next?" What new and exciting things will God do in and through us when we come back together on September 8? During this time apart, I will hold you in prayer. I will also ask for you to keep me in prayer.
Blessings, Pastor Chris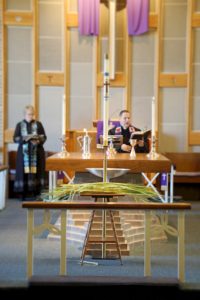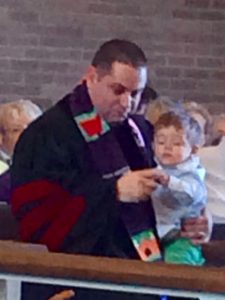 EOV