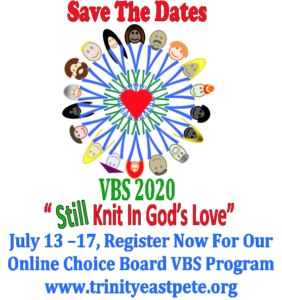 Trinity UCC and Zion Evangelical Lutheran Church in East Petersburg teamed up to create an online VBS program, reminding us that we are "Still Knit In God's Love".
Though the live events are over, anyone interested in participating in the Online Choice Board is still welcome to register to let us know you are participating in VBS, using the link in brown, below. Please ignore the auto-reply message, as the entrance page is now open, so please click on the link in red, below, to enter the VBS pages.
What's An Online Choice Board?
The video below provides an explanation.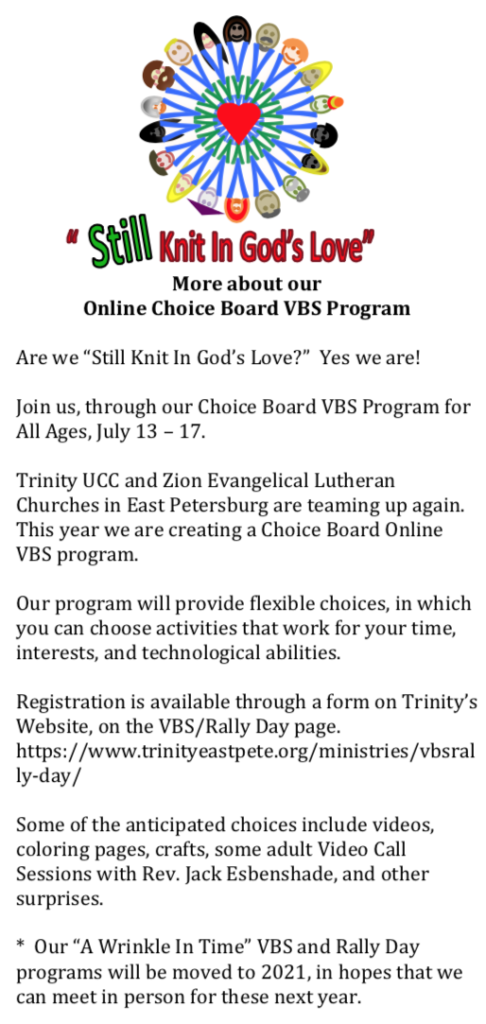 VBS Photo Gallery
July 13-17, 2020
Still Knit In God's Love
VBS Photo Gallery
July 8 – 12, 2019
Knit In God's Love
Rally Day Musical
365 Days of Christmas Each Year
September 9, 2018
VBS Photo Gallery
July 9 – 13, 2018
Through The Wardrobe Door
Rally Day Musical
Under God's Sea In 3D
September 10, 2017
VBS Closing Program
Life On The Reef
Outreach Program From Adventure
Aquarium, Camden
July 14, 2017
VBS Photo Gallery
From July 10-14, 2017
Diving Into God's Seas