THE PASCHAL CANDLE bears the symbols of Christ's Wooden Cross with five nails marking the five wounds of our Lord. Above the Cross is the Greek letter, Alpha, and below the Greek letter, Omega, proclaiming the fact that our Crucified and Risen Lord is the "Alpha and Omega, the beginning and the end." (Revelation 21:6) During the Easter Vigil, the Procession with the Paschal Candle reminds us of God's leading the People of Israel through the wilderness with a pillar of fire. Our Risen Lord is our Light guiding us through the wilderness of our world. The Paschal Candle burns in front of the Altar at the Baptismal Font through these Great Fifty Days, representing the presence of our Risen Lord shining in the splendor of his resurrection. The blue bands remind us of the purity of Christ, the Crosses speak of Calvary. The Palm branches shout "Hosanna! Blessed is He who comes in the Name of the Lord!" The fish remind us that the letters of the Greek word for fish,Ichthus, proclaims – Jesus Christ, son of God, Savior!" – and it was the secret sign used by Christians in the early Church as a witness to our faith.
After Pentecost, the Paschal Candle should remain unlit at the Baptismal Font. It is lighted for Baptisms and Funerals as a sign of our dying and rising with Christ!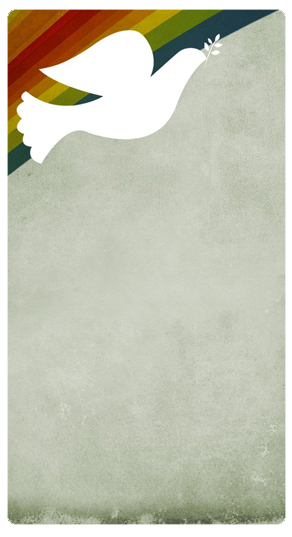 The dove signifies the Holy Spirit and the presence of God. In Mark 1:10 we read that the Holy Spirit descended "like a dove" on Jesus.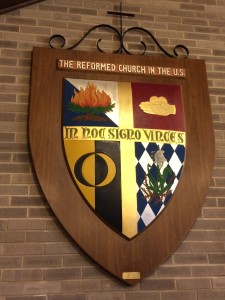 REFORMED CHURCH COAT OF ARMS
The large plaque containing the coat of arms, otherwise known as an escutcheon of the Reformed Church is a huge work of art that is on our back wall. It is the only one in this country, and the second in the world. (The other one is in Belgium)
The plaque is about three feet by five feet. It is painted into four sections by a large cross on which is inscribed…IN HOC SIGNO VINCES (in this sign you will conquer)
The following is a description of each section:
First Section: The burning bush, emblem of the Reformed Church in France, which has as its legend, I am burned but not consumed.
Second Section

:
The Seal of Calvin, with a hand holding out a heart with the legend,
I yield my heart promptly and sincerely to thee, O God.
Third Section: Zwingli's Coat of Arms, a ring, a symbol of eternity.
Fourth Section:
The Lily Among Thorns
,
symbol of the Huguenot Church under severe persecution. The legend is I emerge or I struggle through.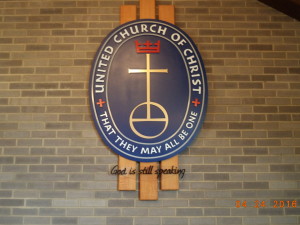 The emblem of the United Church of Christ
is based on the ancient Christian symbol known as
the Cross of Victory or the Cross Triumphant.
Traditionally, this symbol-the cross surmounted
by the crown and all of it atop the orb-signifies the
kingship of the Risen Christ over all the world. The
orb, representing the world, is divided into three parts to signify Jesus' command to his disciples: "You
shall be my witnesses in Jerusalem and in all Judea
and Samaria and to the end of the earth."
For the United Church of Christ, this emblem, rich
in the tradition of the past and alive with hope for
the future, is particularly appropriate. For this
reason, there appear on the perimeter of the emblem
both the name of the church and the text: "That they
may all be one."