Pastor
Rev. Dr. Christopher Rankin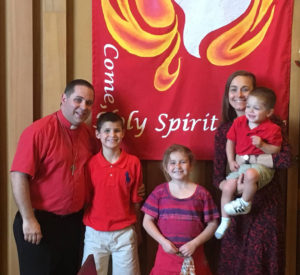 Rev. Dr. Christopher Rankin has been the pastor of Trinity U.C.C. since December 1, 2012. A native Lancastrian, he graduated from McCaskey High School in 1997. Pastor Rankin continued his education with a Bachelor of Arts degree in English Literature from Lebanon Valley College in 2001, and a Master of Divinity degree from Lancaster Theological Seminary in 2004. He received his Doctor of Ministry degree from Lancaster Theological Seminary in 2014. The title of Dr. Rankin's dissertation is Revitalizing the Church for a New Day: Identity, Purpose, and Theology.
Pastor Rankin was ordained on October 24, 2004 at First Reformed U.C.C. in Lancaster. During his seminary studies, he was a student pastor at Hamilton Park U.C.C. in Lancaster and Maytown Reformed U.C.C. Following seminary, he was the supply pastor at St. Luke's U.C.C. in Lancaster, and interim chaplain at the U.C.C. Homes in Annville & Ephrata. Pastor Rankin was then called to St. John's U.C.C. in Fredericksburg, PA, where he served from 2004-2012. In addition to his work at Trinity, Pastor Rankin is involved in the wider church. He previously served on the Penn Central Conference Board of Directors and as Administrative Vice-President of the Mercersburg Society. He is currently serves as Vice-Chair of the United Church of Christ Homes Board of Directors, chair of the Lancaster Association Nominating Committee, and member of the U.C.C. General Synod Nominating Committee. In 2014, Pastor Rankin served on the Mission Priorities Task Force for the United Church of Christ. Pastor Rankin is married to Anne Hambrick-Stowe Rankin, and is father to Zachary, Rachel, and Andrew. Anne is the Parish Administrator at Zion Lutheran Church, Landisville. Her mother, the Rev. Elizabeth Hambrick-Stowe, served as Trinity's Associate Pastor from 1989-1990.
Pastor Royer was born in Lewisburg, PA and was baptized in First Reformed Church, Sunbury, PA. He received his AB degree from Franklin and Marshall College and his seminary degree from the Lancaster Theological Seminary. He was confirmed and ordained at Trinity Reformed United Church of Christ, Pottstown. Pastor Royer was ordained on June 27, 1965.
He served St. John's U.C.C., Freeland from 1965-1968, and St. John's U.C.C., Reading from 1969-1990. Rev. Royer's first service at Trinity Church was on February 28, 1990 (Ash Wednesday). His final service was Christmas Eve 2010. After a "brief retirement", Pastor Royer was called to be the supply pastor of St. Luke's U.C.C., Lancaster until they united with Trinity in 2015. He then served as the Bridge Pastor of First Reformed U.C.C., Lancaster (Pastor Rankin's home church) from 2018-2019.
Rev. Royer has been involved with various committees in the Penn Northeast Conference, the Pennsylvania Southeast Conference, the Penn Central Conference, the U.C.C. Historical Council, the E&R Historical Society, the Mercersburg Society, and the Order of Corpus Christi. He also served as President of the Alumni/ae Council of Lancaster Theological Seminary, and was awarded the seminary's Allen S. Meck award in 1984. Rev. Royer has served diligently as a pastor preceptor/ministerial guide in the ministerial formation program at Lancaster Seminary.
Pastor Royer serves as a lector and supply preacher at Trinity Church.
Covenanted Minister of Mission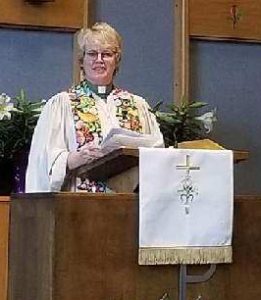 Dr. Call is a member of Trinity Church and was approved by the Trinity Consistory as our Covenanted Ministry of Mission in 2017. She was ordained on November 22, 1994 and has served the following ministries:

2019- Transitional Conference Minister of Penn Central Conference
2016-19 Exec. Director of Development and Communication, Lancaster Seminary
2012-16 Assoc Conf. Min., Indiana-Kentucky Conference
2004-12 Dir. (Office for Civic & Social Engagement), St. Mary's College, IN
2002-12 Instructor, (Depts Ed & Psychology) at St. Mary's College, Indiana
1992-97 Pastor, Old First Church, Middletown, NJ
Secretary/Administrative Assistant
Carol Kratz

Carol Kratz started working at Trinity on May 18, 2016. She has many years experience working as a church Administrative Assistant. She attended Eastern Mennonite College as a Psychology Major. Originally Carol is from Long Island, New York. She has lived in Lancaster the past 25 years. She has 3 children; Jason, Tara and Dana, and 5 grandchildren; Eve, Danny, Madison, Connor and Aubrielle. Her husband of 49 years is Terry L. Kratz, a manager for a local convenience store.
Director of Music/Choir Director
Michael Slechta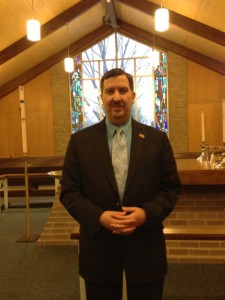 Michael joined Trinity UCC and the Sounds of Trinity Choir in 1993, and in 2005 became the Director of the SOT Choir upon the retirement of Dave Trostle who conducted the choir for 30 years. In 2011, Michael became the Director of Music upon the retirement of Nancy Enders who was Trinity's first Director of Music and served Trinity as organist for about 22 years. He thanks his wife, Dina, who is the behind the scenes Co-Director of Music and helps with many of the organizational tasks of Trinity's Music Ministry. At Trinity Michael has substituted as organist, worked with Nancy Enders, Gretchen Leinbach, and Anita Rohrer in leading Sunday School devotions, taught and directed Vacation Bible School, conducted and acted in Rally Day Musicals, served on the Pastoral Search Committee, chairs the Technology Committee, and conducts the bell choirs, among other things.
Outside of Trinity, Michael is the Coordinator for Music, Art, Humanities & 21st Century Skills in the School District of Lancaster, recently named to the NAMM Foundation's Best Communities for Music Education for the fourth year in a row (2011, 2012, 2013, 2014). Michael serves as an adjunct instructor in the Master of Music Education program at Lebanon Valley College teaching Research Methods in Music Education. In 2012, Michael became Conductor of the Reading Philharmonic Orchestra, following the retirement of Helen Schell, after serving as Co-Conductor since 2002. Michael plays string bass with the Reading Pops Orchestra and serves as the secretary of their board of directors. He freelances within Lancaster, Berks and other surrounding counties.
Michael has a Bachelor of Science in Music Education from Lebanon Valley College (1991) summa cum laude with college and music department honors for an independent study in conducting, graduate credits from Temple University, University of the Arts, West Chester University, and Vandercook College of Music, a Master of Music Education from Lebanon Valley College (2004), Post-Masters Certification (K-12 Supervisor of Curriculum and Instruction) from Millersville University (2006), and Post-Masters Certification (K-12 Principal) from Immaculata University. In 2003 Michael earned National Board Certification as an Early and Middle Childhood Music Teacher from the National Board for Professional Teaching Standards. During the 2013-2014 school year, Michael has worked with teachers from the School District of Lancaster who are pursuing National Board Certification through a partnership with SDOL, East Stroudsburg University and Colonial IU 20.
Michael is a member of ASCD (Association for Supervision and Curriculum Development), NAfME (National Association for Music Education), PMEA (PA Music Educators Association), American String Teachers Association, National Art Education Association, ISTE (International Society for Technology in Education) and GIML, the Gordon Institute for Music Learning (having served as a former member of the Publications Commission, former chair of the membership commission and former president of the PA/Mid-Atlantic chapter). He has obtained level one certifications from GIML in early childhood and instrumental music.
Michael and Dina are the proud parents of Theodore and Hans, both of whom are actively involved in music and at Trinity. Michael thanks his parents for their support of his musical learning as a child. He learned a lot from his father who was a church organist and choir director and his mother who continues to oversee the Christian Education program at her church after almost 30 years.
Organist
Christine Oetama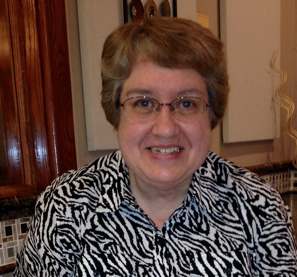 Christine is a graduate of Manchester University, IN with a B.A. in Music Education.
She started her professional career teaching private piano lessons in Marburg, Germany, and later in Lititz. She retired in 2019 from teaching elementary general music and strings in the Manheim Central School District, where she had taught for over 25 years.
Christine has served as an organist for the Lititz Church of the Brethren, Lancaster Church of the Brethren, as organist/music director at St. Paul's UMC, Mountville, and as a substitute organist in local churches. She has been the organist at Trinity UCC since 2017 and enjoys accompanying the choir and working with string players in the congregation.
Preschool Director
Sean McKelvey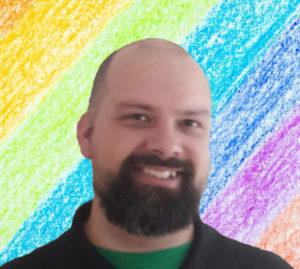 Sean lives in Mountville with his wife and three children. He has previously worked for PA Counseling Services, Preschool Coordinator for K-Prep Learning Center, Classroom Teacher for Head Start of York and has mentored students who are preparing to become Early Childhood Educators.