PASTOR CARRIE'S MESSAGE
AN ADVENT PRAYER
God of Advent, we live in
the promise that you will
fulfill your will for earth.
Yet nations are in chaos
and our lives in turmoil.
Gather us together to
begin our watch for the
coming of your Promised
One. Lead us through the
chaos by a watchful
heading spirit. In the
name of the One who is to
come, we pray. Amen.
MESSAGE FROM THE REV. DR. CARRIE CALL
(Trinity's Covenanted Minister of Mission)
During this Advent season we will hear from John the Baptist
several times. The lectionary gives us passages from the
Gospels of John and Mark about the desert prophet,
encouraging us to reflect on the idea of repentance. The
passages, while sometimes surprising to us at this time of year, actually reflect the historical penitential nature of the Advent season. In the Catholic and Episcopal traditions Advent offered a time of preparation and self-examination. John the Baptist was a focus and the holy family was not seen until much closer to Christmas Day. Some of this sense of preparation has been lost, largely because we get into a "Christmas Spirit" directly following Thanksgiving. However, Advent is, like Lent, a time for us to prepare our souls – we do this by engaging in selfexamination and asking ourselves tough questions about the state of our spiritual lives. That self-examination should also include repentance when needed, for the ways and times we are not living out the life God has called us to. Advent involves four weeks of preparation – and while it may not be enough time to complete allyour shopping, it does offer us the potential for a deeper connection with the Holy.
When I reflect on all the passages about John the Baptist – including the one in
Luke, which is quite blistering – I focus on the line about bearing fruits worthy of
repentance. I noticed that John did not say, "act in ways worthy of repentance" or "speak words worthy of repentance". Instead he used a word that his listeners would understand from their own lives – fruit. We are to bear fruit worthy of repentance. When our repentance is authentic and humble, the ensuing liberation results in fruits of the Spirit. These fruits include kindness, generosity, forgiveness, love of enemy, and peace-making, and we are to share these fruits with others.
Fruit is a perfect term for reflecting on the life to which we are called. After all, fruit is complex and mysterious. Fruit is remarkable because it carries within itself the seeds for its own replication. Fruit is attractive, tasty, desirable and (usually) sweet. For example, if we think of compassion as a fruit, we can see how practicing compassion plants seeds of compassion at the same time. We don't know when (or if) these seeds will germinate, but the fruit bears them nonetheless. The fruit we bear are sweet, attractive, and sow their own seeds in the lives of others.
Last night I heard a reporter describe the world as "crowded with cruelty." How
much more, then, we need to hear and abide by John's words during this time of Advent. Now is the time for self-examination and repentance. Now is the time for preparing our hearts for the arrival of the Price of Peace. Now is the time for
repairing, strengthening, and enriching our relationship with God. Now is the time for bearing fruit – sweet, nutritious, sustaining fruit – for a world aching for good news. Amen.
Share the Joy!!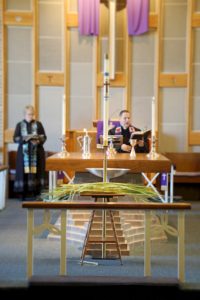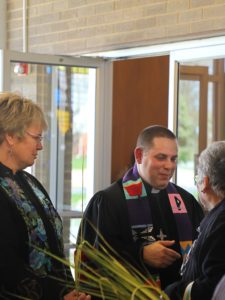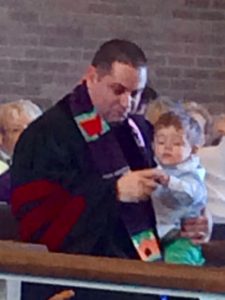 EOV