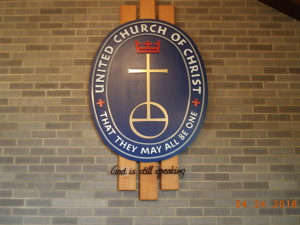 The emblem of the United Church of Christ
is based on the ancient Christian symbol known as
the Cross of Victory or the Cross Triumphant.
Traditionally, this symbol-the cross surmounted
by the crown and all of it atop the orb-signifies the
kingship of the Risen Christ over all the world. The
orb, representing the world, is divided into three parts to signify Jesus' command to his disciples: "You
shall be my witnesses in Jerusalem and in all Judea
and Samaria and to the end of the earth."
For the United Church of Christ, this emblem, rich
in the tradition of the past and alive with hope for
the future, is particularly appropriate. For this
reason, there appear on the perimeter of the emblem
both the name of the church and the text: "That they
may all be one."

****CATCH THE VISION****
**** SHARE THE JOY****
We welcome all who worship with us. May the joy of Christ's presence and the power of the Holy Spirit fill you with peace and hope! We would be honored by your presence and trust that you will join us in the praise and worship of God.
All visitors receive a loaf of Trinity Bread which symbolizes our ministry of welcoming, caring, sharing and inviting.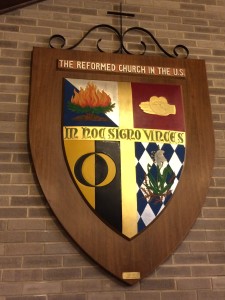 CELEBRATING 168 years OF MINISTRY AND MISSION
1848 – 2016
Thank you for visiting our web site! We welcome you in the name of our Lord Jesus Christ!
All persons who seek God and desire to grow in a relationship with Jesus Christ and his body, the church, are encouraged to join us in worship, faith, fellowship and mission.
We are a growing congregation rooted in the faith of the apostles, fed by the Word of God revealed in the Holy Scriptures, and renewed by the presence and power of the Holy Spirit.
Faithful to our roots we are at the same time progressive in our expressions of faith and service.
God call us to life and gives us the vision of a whole new way of being. We invite you to join us in this new life and experience the joy of being part of the family of God's people.
TRINITY IS……… * family for single, married, divorced, widowed, young and old persons * faithful to our 160 years of tradition in a contemporary way * a creedal church rooted in historic Christian faith expressed through the Apostle and Nicene Creeds * a growing congregation that retains intimacy * Children Friendly * Liturgical and sacramental.
Holy God, who understands our motives and knows our every thought, we seek in these moments to be attuned to your Word and will, that we may be humbly receptive to the proclamation you would have us share with the world. Grant us strength to persevere in our witness, so others may catch a vision of the joy you offer to all who serve you.