The elevator and the new portico is installed, and is in use. New handicapped parking spots are in the back by the new elevator. Automatic opening doors have also been installed.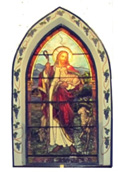 Saint Luke's Window
Trinity has received permission from the congregation that bought the former St. Luke's building to remove the Good Shepherd Window. Our Project Team has a plan in place to hang that window on the second floor wall by the elevator.
A little about financing the project
The Finance Committee has commitments from Fulton Bank to finance the project.
A $400,000 first mortgage for 15 years will be closed to assist with financing the project. Another $400,000 short term 3 year note will cover capital campaign funds until members provide their capital campaign contributions.
We additionally received excess pledges that will allow us to build a canopy portico and provide WiFi throughout the building. These costs are estimated to be up to $110,000 in added costs.
The overall project budget is estimated at $1,045,000 including the portico canopy and the WiFi installation.
General Contract for Construction Awarded to MidState in Harrisburg
All construction and site work for our Building Project was completed by MidState located in Harrisburg. Mike Neiswender, President of MidState participated in our worship service and ground breaking ceremonies Sunday, May 22, 2016. Tom Marcinkowski from Greenfield Associates, the architect who completed our design work also participated in our services.
Mike Neiswender is the Project Manager for MidState and Harry Whisler is the on site foreman for MidState. They meet regularly with our Project Team (Chuck Husted, Pat Sensenig, and Mike Wagner).
If you have questions or would like to review the detailed engineering plans for either the inside or outside work, please contact either Chuck Husted, Pat Sensenig, or Mike Wagner. They have been working diligently with the Architects, the engineers, and the utility companies and would help you understand the project and how it is all put together. We aren't totally sure, but we believe Chuck has memorized everything.