Position Available
Preschool Director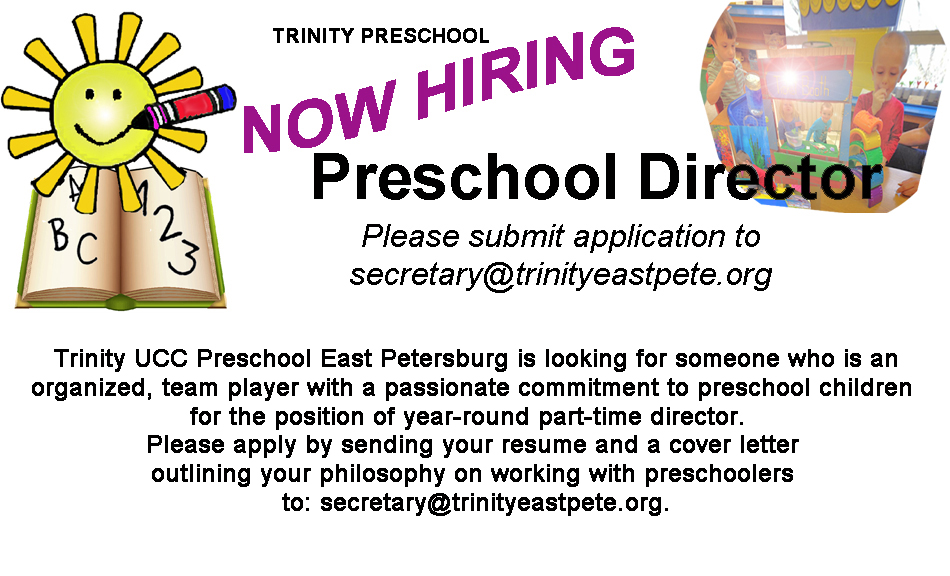 Immediate opening is available for Director of the Trinity United Church of Christ Preschool. For the past 50 years, TUCC Preschool in East Petersburg, Lancaster County, PA, has provided a warm, positive environment for the academic and social/emotional development for preschool children ages 2 through 6. The Director is an organized, self-motivated team player who provides leadership, guidance and direction for the daily operations of Trinity United Church of Christ Preschool, serving 50-75 children in 5 different classes each week, from Labor Day to Memorial Day. The year-round Part-time position for Director averages 12-15 hours per week during the school term, with flexibility for occasional increased hours and attendance of evening programs. The Director should have a passionate commitment to serving families, making a difference in the lives of children in our community. Our former director served the children and
families of our Preschool for the past 17 years, working with a stable group of teachers and assistants with low turnover.
Duties and Responsibilities: • The Director plans, develops and implements the overall program for the Preschool. • Conducts staff meetings, orientation, and in-service training of staff and volunteers. • Assures that staff stays abreast of current trends and new teaching techniques, supporting their professional development. • Generates and maintains all necessary records and reports, including registration. • Operates the Preschool within budgetary guidelines. • Prepares fiscal reports as necessary. Maintains an environment that is safe and conducive to learning.
Qualifications: The Director is required to have a bachelor's degree from an accredited college in early childhood education, elementary education, child development, special education, or human services and two (2) years of experience with children; OR a bachelor's degree with thirty (30) credit hours in the areas of study mentioned above and 2 years of experience; OR an associate's degree from an accredited college or university in the areas of study mentioned above plus three (3) years of experience working with children. So, if you are an experienced educator who is passionate about influencing the lives of families and young children in our community and is interested in part-time hours, we want to hear from you! Please send your resume and cover letter outlining your philosophy on working with preschool-aged children, along with three (3) references, two of which need to be professional references
Email resume and direct questions to:
Or contact the church office at:

Trinity UCC, 2340 State St.
East Petersburg, PA 17520
Phone 717-569-1632