PASTOR CHRIS' MESSAGE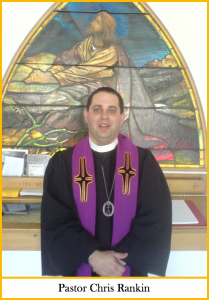 CONTINUING OUR
JOURNEY OF FAITH!!
Therefore, since we are
surrounded by so great a
cloud of witnesses, let us
also lay aside every weight
that clings so closely, and
let us run with
perseverance the race that
is set before us, looking to
Jesus the pioneer and
perfecter of our faith, who
for the sake of the joy that
was set before him
endured the cross,
disregarding its shame,
and has taken his seat at
the right hand of God.
(Hebrews 12:1-2 NRSV)
PASTOR CHRIS' MESSAGE
Dear Fellow Disciples,
In recent months, we have grieved the loss of wonderful people who
have contributed to the life of this congregation in a variety of ways.
One of those special people was Janice "Danny" Geisler, the widow
of the Rev. George Geisler, our beloved pastor from 1964-1989. I
would like to pay tribute to her in this space.
Mrs. Geisler was a source of support and love for my family
from the very beginning of our time with Trinity Church. In my many visits with her, Janice shared with me stories of Pastor Geisler's ministry with you. I enjoyed these stories because I never had the opportunity to know Pastor Geisler. Anne was fortunate enough to know both Pastor & Mrs. Geisler from attending
worship in the late 1980s when her mother was the associate pastor.
Anne and I were blessed to have the support of Mrs. Geisler. In many
ways I saw her "passing on the baton" to Anne. The sad thing is she
never taught Anne how to do the famous Danny Geisler whistle! On a
serious note, it warmed my heart to have her here for the ground
breaking of our new addition, and then at the dedication service last
November. It was a joy to see her excited about the future ministry of
this church.
We are now called upon to continue the race that is set before us. We
continue to be encouraged by the great cloud of witnesses—Pastor &
Mrs. Geisler, Nancy Rohrer, Rev. Dr. Jim Bright, and the many other
saints who have gone before us!
I give thanks that I had the joy and pleasure of knowing Janice Geisler. I
am grateful for all that she was to this congregation—pastor's wife,
Sunday School teacher, choir director, preschool teacher, and friend to
many. Her love of this church will continue through the love and support
of Donna, Kerry, Kim, Caleb, Landis, and Hayden. Their presence will
continue the rich legacy of the Geisler family. I am grateful that they will
be running the race with us!
Blessings,
Pastor Chris