PASTOR'S MESSAGE
APRIL 2019
CONTINUING OUR
JOURNEY OF FAITH!!
Little children, I am with you only a little longer. You will look for me; and as I said to the Jews so now I say to you, "Where I am going, you cannot come." I give you a new commandment, that you love one another. Just as I have loved you, you also should love one another. By this everyone will know that you are my disciples, if you have love for one another.' (John 13:33-35) Judas (not Iscariot) said to him, 'Lord, how is it that you will reveal yourself to us, and not to the world? 'Jesus answered him, 'Those who love me will keep my word, and my Father will love them, and we will come to them and make our home with them. Whoever does not love me does not keep my words; and the word that you hear is not mine, but is from the Father who sent me. (John 14:22-24)
Catch the Vision, Share the Joy!!
A MESSAGE FROM OUR PASTOR
Dear Fellow Disciples,
In one of my recent sermons, I shared with you a quote by Mahatma Gandhi: "I like your Christ, I do not like your Christians. Your Christians are so unlike your Christ." I do not take this quote as being a statement against Christianity, but rather as a reminder that we often fall short of following the way of Christ!
This Lenten season we have focused on how the perfect love of God will cast out fear. This love is not only for our family, friends or us, but also for our neighbors, our enemies, and those who are different from us.
Jesus gives us a new commandment—-to love one another! Some might respond to Jesus, "No way!" Others might ask, "How can we do this?" We are able to have love for one another because it is a gift to us from God! We are reminded of this gift as we journey with Christ to the cross. On Good Friday we will recall the betrayal, arrest, crucifixion, and burial of Christ. The cross becomes a symbol of God's love for all people. It is also reminds us that we are people of love because we are disciples of Jesus Christ!
We will move from the darkness and gloom of Good Friday to the light and glory of Easter morning! The good news of Easter is that death does not have the final word, but rather life and love cast out all fear! We are then called to be Easter people, empowered to share the love of the Risen Christ to all people! I invite you to journey with us during Holy Week. We will enter Jerusalem with Jesus and recall his humility and humanity as he rides in on a donkey. We will gather to worship to seek healing and peace from God. We will gather at the Lord's Table to remember that final meal Jesus had with his disciples. We will then hear the account of Jesus' arrest, death, and burial from all four gospels.
These services are important steps along the journey. We cannot move from the shout of "hosanna" to the shout of "alleluia"! I hope you will make the Holy Week journey apart of your spiritual practice this year!
On Easter morning we will celebrate the resurrection of Christ and proclaim that Christ is alive! We will hear the good news in the scriptures, sermon, and hymns of the day. We will feast on the life of Christ through the broken bread and the cup of blessing. We will then be sent out as Easter people to have love for one another!
Blessings, Pastor Chris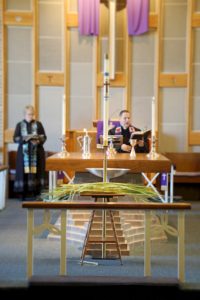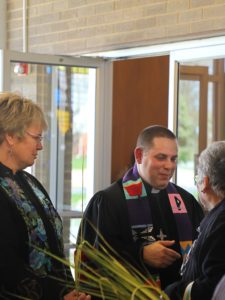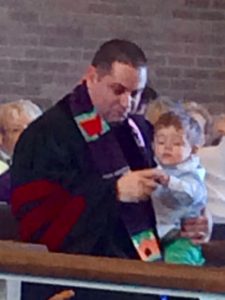 EOV