PASTOR CHRIS' MESSAGE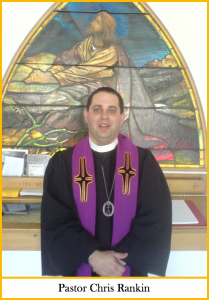 CONTINUING OUR
JOURNEY OF FAITH!!
I press on toward the goal for the prize of the heavenly calling of God in Christ Jesus.
(Philippians 3:14 NRSV)
Then Jesus went about all the cities and villages, teaching in their synagogues, and proclaiming the good news of the kingdom, and curing every disease and every sickness. When he saw the crowds, he had compassion for them, because they were harassed and helpless, like sheep without a shepherd. Then he said to his disciples, "The harvest is plentiful, but the laborers are few; therefore ask the Lord of the harvest to send out laborers into his harvest."
(Matthew 9:35-38 NRSV)
PASTOR CHRIS' MESSAGE
Dear Fellow Disciples,
At the end of August, Anne & I went to the Mount Gretna Theatre to see Lois Lowry's Gathering Blue. There was a line in the musical that caught my attention. I wrote it down so I wouldn't forget—"Remember the past so that you have a future."
This month we will be engage in some remembering as we commemorate the 500th anniversary of the Protestant Reformation. There are more details about the various programs and services in this Parish Post. However, as we do remember this significant event in the life of the Church, we must remember our heritage and how it shapes who we are today and who we will become tomorrow. Some of what we are experiencing in the life of the Christian Church today is because of what happened 500 years ago. What is at stake for us now? What does that past mean for us so that we will have a future?
These questions are also important when it comes to stewardship. You have received your "I Promise" forms. Please contact the church office if you did not receive one. The Finance Committee also sent a budget summary. This is to challenge you to consider how you will financially support the ministry of Trinity Church. As you enter into a time of discernment reflect on this congregation's past. Furthermore, think about your past in this congregation. This goes for people who have been members for fifty years, five years, or five months!
Next year this congregation will celebrate some significant milestones. Trinity U.C.C. will be 170 years old. We will also celebrate the 50th anniversary of the dedication of our building. We quickly realize that we are part of a rich heritage. Our ancestors in the faith have entrusted the care of this congregation to us! We remember the past so that we will have a future.
The other form that was sent with the "I Promise" form is a list of the ways you can be involved in the ministry of Trinity Church. Please take time to prayerfully consider how you will become involved. We need each of you to build up the body of Christ.
Please place both forms in the offering plate on October 8. I hope all of you will give prayerful consideration to your support of our vital ministry. Join me in the coming months as we remember our past and look to the future that is yet to come!
Blessings,
Pastor Chris
Catch the Vision,
Share the Joy!!